How to enjoy the meals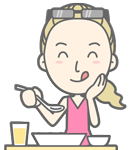 - Japanese Ryokan usually provide dinner and breakfast set meals to their guests. Whether you have your meal in your room or in the dining area depends on the ryokan and on the type of plan you have bought, so please ask the staff when checking in.

- "Kaiseki" is a course meal usually offered by ryokans that consists of variety of dishes, from appetizers to desserts. The dishes may be brought to your table at the same time. You do not need to worry about eating them in any particular order. Recently, some ryokan offer buffet-style accommodation to their guests.

- Holding up a bowl of rice or miso soup to eat has been the correct dining etiquette in Japan since early times, when people began to formally kneel (seiza) on tatami mats and take meals using a small table, called zen. It is still considered good manners today.

- If you feel uneasy eating with chopsticks, please feel free to ask for a knife and fork. In your meal you might find inedible vegetables that are for decorative purposes only. If you are not sure which vegetables are edible, feel free to ask the staff.

- Meals are included in the accommodation charges, but drinks are not. You will be asked to pay for any drinks at checkout.