Scenic Spots in Akiu
Rairaikyo (Rairaikyo Gorge)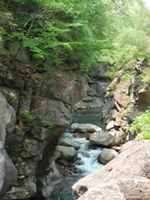 Scenic view, Rairaikyo Gorge was named for its impressive range of unusual shaped rocks. A stream continues to shape the ravine for about 1 km from Nozoki bridge as it flows along the bottom. It has a 650m pathway through the bottom of the ravine so visitors can enjoy the views all year around. Also, hiking "Rairaikyo Momiji pathway" from Akiu Sato Center gives close-up spine-tingling views of the Natori river below.

The heart shaped rock which has been naturally eroded away was designated as a "Holy Place of Lovers" in January 2014. You can find the heart from Nozoki Bridge.
Akiu Otaki (Akiu Otaki Waterfall)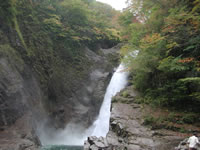 It is said that Akiu Otaki is one of the big top three water falls in Japan. A scenic breathtaking 55m long and 6m wide waterfall. Along the pathway, there is a viewpoint which will lead you to the basin of the waterfall. You may feel high levels of negative ions there. It has been featured in magazines that negative ion created near this waterfall has beneficial effects on health. It is designated as a National Scenic Beauty. It's a 20 minute drive from Akiu Sato Center.
**Pathway is quite steep and slippery. Please watch your step as you get closer to the waterfall.
Banjiiwa (Banjiiwa Rock)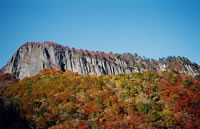 A vertical wall of volcanic rocks stretching more than 3km in length and 150m in height offers truly incredible view of natural landscapes. Many hikers enjoy the view of autum leaves in fall season. It's a 40 minutes drive from Akiu Sato Center.
Futakuchi Kyoukoku (Futakuchi Canyon)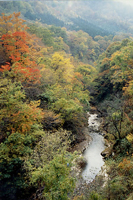 Futakuchi Kyokoku is blessed with spectacular scenery of fresh green trees in the spring and colorful trees in the fall. Hiker numbers grow especially in those seasons. Mt. Daito starts the mountain climbing season every year at the end of May. Hiking through Urabanji trail, you can get an excellent view of a forest full of beech trees.
It's also known for Sawanobori (stream climbing). It was featured on "Jonetsutairiku" TV show.
It is a 40 minutes drive from Akiu Sato Center.
**Please dress appropriately for your day trip to the mountains.