How to Bathe in a Hot Spring
When taking a bath...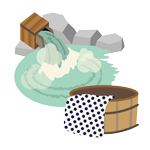 The bathing area in hot springs is divided into male-only and female-only areas. The available bath time is different depending on the Ryokan, so check for it beforehand. Also take note that male-only and female-only areas may alternate in some inns during morning and evening Generally, blue curtains indicate male-only areas and red curtains indicate female-only areas.
- Use the towels provided in your room. Use the face towel like a sponge when washing your body in the bathing area. Put the clothes that you took off in a basket or inside the locker and use the bath towel when wiping your body dry after taking a bath.

- Keep your keys and valuables inside the locker in the dressing room. Some hot springs do not have a locker. In these cases, do not bring cash or valuables with you when going to the bathing area. Also, be sure to take off any jewelry before bathing as the minerals in the hot spring water may cause it to turn dark.
Step 1:

Take off your slippers at the entrance.

Step 2:

Take off all of your clothes and put them on the basket or inside the locker.

Step 3:

Wash your body in the shower. You may enter the tub only after washing and rinsing your body.

Step 4:

After the bath, lightly dry yourself with the towel and go to the dressing room.

Step 5

Finish drying with the bath towel and get dressed.
Dos and don'ts at the bathing area:
Do not dive in or swim.
Do not wear a bathing suit when taking a bath.
If you have long hair, tie it up so that it will not get into the bathtub.
Do not bring the towel into the bathtub.
Do not bathe in the hot water for too long. Doing so may cause you faintness or dizziness.
Eating and drinking at the bathing area, as well as taking photographs are prohibited.
Be sure to go to the restroom before bathing.
As a rule, people with tattoos are not allowed into the bath. Please consult at the front desk when checking in.
Do not take the shampoo and soap from the bathing area, as well as equipment from the dressing room away with you.
Drink enough liquid and take a rest after bathing.