How to enjoy a Hot Spring Ryokan "Guest Rooms"
In the room: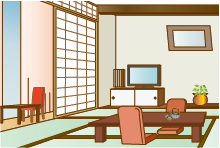 Take off your slippers and shoes when going in a tatami mat room.
The "tokonoma" or alcove is an artistic space. It is not a place to put your luggage. Be careful when moving your suitcase as tatami mats are fragile.
The tea and confectionery set in the room are free of charge. However, the drinks set in the refrigerator are not, and we will ask you to pay for them when checking out.
The room is set with bath towels, hand towels, yukata (light kimonos), and toothbrushes for the each of the guests. You may use the items in the room during your stay for free. However, you may not take with you any of them, except for the toothbrush.
Bring with you the bath towel and hand towel from your room when going to the bathing area.
Place you passport, money, and other valuables inside the safe in your room.
Guests staying in rooms without beds will sleep on futons, which must be spread out on the floor. The inn personnel will assist you in preparing and tidying up the futon. If you are dining inside your room, the inn personnel will lay down the futon after your meal. If you are dining in a different room, the inn personnel will lay down the futon while you are dining.
Customarily, there is no need to provide a tip. Since olden times in Japan, there has been a custom in which the personnel in charge of the meals is given a tip. However, this custom is diminishing in recent years.