About Akiu Onsen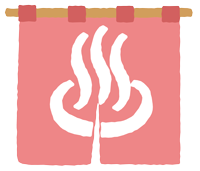 Sendai is located about 2 hours by bullet train from Tokyo. With a population of 1.07 million people, it is the largest city in the Tohoku region, but as suggested by its nickname, "City of Trees," it is blessed with abundant nature, and tourists can easily access its touristic spots using the east-west and north-south subway lines. Akiu Onsen is located in the western part of Sendai, about 30 minutes by car from the city center. There is frequent bus service, and due to its easy access, it is sometimes called "Sendai's best secluded locations." It is a historic hot spring that was reportedly opened 1500 years ago, and it has long been known as an onsen visited by the royalty and the Date feudal clan. It has also been loved as a hot spring that beautifies the skin.
In the area around the onsen town, there is plenty to see, such as the Akiu Otaki Waterfall, which is one of Japan's Top 100 Waterfalls; the Rairaikyo Gorge (including the Nozokibashi Bridge and its heart-shaped stone, "Nozokibashi ♡ Heart", a popular destination for couples); the Banji Iwa, a designated place of scenic beauty and the like, and it has also been a popular recreation area for the citizens of Sendai.
There also remains the strong influence of ancient folklore and culture, such as the "Akiu Taue Dance" which is registered as a UNESCO Intangible Cultural Heritage, and you can sense the unique local traditions and ways. Many craftsmen, artisans, and artists have been fascinated by the nature of Akiu and moved there to continue their creative work. From this, a new culture is developing. Beginning with the lighting up of the Rairaikyo Gorge, various events take place throughout the four seasons, and the onsen is a popular spot for everyone, young and old, men and women alike, for its various charms. That is Akiu Onsen.